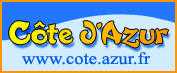 Napoléon was a man! His life was the stride of a demigod." Goethe. 1828.
---
THE ROUTE NAPOLEON

On the western shoreline sandwiched between Cannes and the Cap d'Antibes is an ancient fishing village sheltered by the heights of Vallauris. Its name is Golf Juan and it secured its niche in history by being the place where Napoléon Bonaparte chose to step ashore with his 1200 men after escaping from Elba. As history records, Napoléon marched through the Alps to Grenoble and on to Paris itself, gathering more followers at every stop to keep his date with destiny, and the route he took is now known as the Route Napoléon.

When Napoléon's small army arrived at the tiny village of Cannes they pitched their tents on the beach but were allowed a scarce two-hours rest. Packing quickly, they marched inland on the straight road through Le Cannet, Mougins and Mouans Sartoux until they reached the outskirts of Grasse . Napoléon tried to avoid passing through the town as he was unsure of the reception he would get from the inhabitants. Instead he took a short break near a village called Cabris, which must have suited him well as this was a vast plain on the very edge of Le Plateau de Provence, which also gave a good view of the countryside. This, the Plateau de Roquevignon, is known today as Napoléon's Plateau.

Cabris, incidentally, was occupied in ancient times by the Moors, and is now a favourite abode for artists and writers seeking that peace which such a small town affords. The road - as a road - ended here and the Emperor's small army had to temporarily leave the two light canons and some other equipment behind and tackle the stiff slopes that led to the Alps proper, using only mules which he requisitioned. There is a story told that one of the mules slipped on the ice and a shower of gold coins fell down the precipice.

Today that road cuts across the fields and hills and then leads on across three mountain passes, the Pilon Pass (2575 feet), then the Faye Pass (3250 feet), where a bust of Napoléon commemorates his resting there for a meal, and then on to the third Pass, the Valférri&egravere (3800 feet).

Considering this was very early in March, such a journey undertaken in cold winds, rain and even snow, remains a classic of determination because the Emperor and all his men completed the journey to Cabris from Golf Juan in 24 hours. It is at Cabris, where Napoléon's men had to leave the road and start climbing, that the connection with the Côte d'Azur ends.


---

Created, composed, and constructed by Virtual Riviera 1995
---