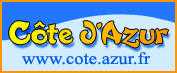 Nice
- the Promenade des Anglais -
L ined with cafes and hotels, both modern and Belle Epoque, museums and posh apartments, the Promenade des Anglais is a long wide road which runs the length of the seafront at Nice . You walk across it and you're on the beach beside an unbelievably blue mediterranean .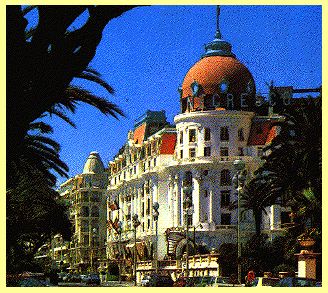 The actual promenade itself, begins at the eastern end of Nice by the Jardin Albert I and runs westward towards the airport - a long way.
The older and grander hotels of the Promenade des Anglais were built at the turn of the century. In most people's eyes, the grandest, with its Empire and Napoléon decor, is the Negresco.
The building, which is now a national monument, was built in 1912 by Henri Négresco, a Hungarian immigrant. Before he started the hotel, Henri was director of the city casino's restaurant - we're talking guests who were the richest people in the world, the Rockefellers and the Singers. He wanted his hotel to be a hauts lieux as well, and had it designed to attract the very top of the upper crust.
As bad luck would have it, World War I reared its ugly head, and the hotel became a hospital. Négresco died shortly after the war, a ruined man.
Once the Americans arrived during the roaring twenties business soon picked up. Especially once Gerald and Sara Murphy and their entourage of writers and celebrities had discovered the pleasures of summer on the Riviera.
There are many more pleasures to be discovered on and around the Promenade des Anglais. On the Avenue des Baumettes, there is the Musé des Beaux-Arts Jules. And, in a little park on Rue de france just off the promenade, there is the Musée Masséna named after a local boy who was made a Napoleonic general.
Weary? Take a short walk back to the beach and enjoy the view across the bay to the Cap d'Antibes and the fortified Port Vauban which was built to defend Antibes, and France, from the Niçois.



---

Created, composed, and constructed by Virtual Riviera 1995
---