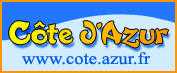 The Making of the Luxury Yacht Centre of the World
---
It was the Greek seafarers who first began turning the southern corner of the Bay of Angels into a trading post known as Antipolis - it means 'the city opposite', referring perhaps to Nice, or perhaps, to Corsica.

Like most of Europe, Antipolis was occupied by the Romans. Remains of their buildings can still be found, such as the excavated cellars which now house La Voute restaurant just opposite the Virtual Riviera building.

During the 14th century, the King of France realised the military importance of the port on the border of France and Savoy. The port was fortified and expanded continuously for the next three centuries. It didn't lose its strategic role until Nice became part of France in 1860.
One of the early drawings for the fortification of Antibes

The project was finally completed by Vauban in the 17th century, and Port Vauban is now one of the biggest yacht marinas in the world.

The Marina is home to some of the world's largest and most expensive yachts which sway elegantly along its quays. Its 1,600 moorings make it the largest pleasure port in Europe.

The ancient ramparts contrast with high tech, multi-million dollar floating homes .

And as the sun goes down, owners, guests and crew can feast in some fine restaurants just a few minutes away, through the ancient stone gate, in the cobbled streets of Vieil Antibes .


---

Created, composed, and constructed by Virtual Riviera 1995
---