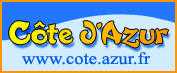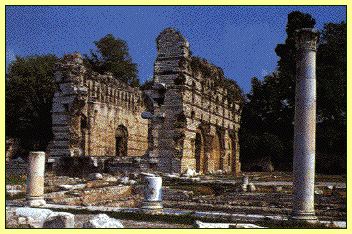 ...improvised streets, ruins and jazz...
A way from the beach, and east of the Promenade des Anglais , is the old centre of town - Vieux Nice. You can almost touch the Italian influence - the place buzzes, it's lively and animated. There are lots of small, inexpensive restaurants and pizzerias.
Many people's favourite attraction is the cours Saleya . It's a marketplace, bursting with colour, where you'll find an abundance of flowers, a Niçois green sprout salad speciality known as mesclun , and the best of the local fish catches. (Look out for Stockfish on your restaurant's carte in the evening - you probably saw it in the market earlier in the day.)
There's activity all around. Watch out for the delivery boys arriving with hot socca . It's a chickpea crêpe which has been deep fried in a batter - almost as satisfying as the old town itself.
As you wander down its narrow Italianate streets , the Baroque churches compete with the hanging washing and chic snooker parlours. This is no informal grid of streets as found a little further west. Vieux Nice is small and perfectly formed. Take some time to linger with the locals at the Chapon Fin on rue Moulin and you'll soon find out for yourself.
Though Vieux Nice has its own special history, the oldest part of France's fifth largest city is Cimiez. Nowadays, it's a sophisticated, mainly residential area sitting on a hill where, many moons ago, the Romans settled.
They arrived in the first century BC, and by the third century AD, Cimiez had 20,000 residents, and was the capital of a small eastern Gaul province called Alpes Maritimae . (The name of the département - County or State - nowadays is Alpes Maritimes.)
As with the local names, some of the Roman influence lives on. During the third century AD, they built thermal baths and arenas in Cimiez. Despite the wear and tear of the centuries, the amphitheatre still manages to contribute to Nice's big music event of the year - the Nice Jazz Festival.
Each July, in and around the amphitheatre, there are several stages in action simultaneously. One ticket buys you entry to concerts throughout the day - and, despite the number of big names who turn up each year, the atmosphere is relaxed and easy going. After all, a sultry July evening is not the time to be rushing around - especially when there's the next day's concert to look forward to.