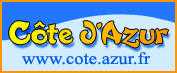 BEAU LIEU POUR LE SPORT
-----
A WONDERFUL PLACE FOR SPORT
O asis de charme, Beaulieu-sur-Mer n'en demeure pas moins un ville sportive:
Voile, ski nautique, promenade en mer avec pêche au thon...
Son port de plaisance est l'un des plus fréquenté de la Riviera.
Outre les sports nautiques, Beaulieu offre de nombreuses autres activités dont le Tennis, le Mini-Golf, la Pétanque, la Spéléologie...et à quelque minutes le Golf.
A n oasis of charm, Beaulieu is nonetheless a town for sports:
sailing, water skiing, tuna fishing in the Mediterranean...
its harbour is one of the most popular on the Riviera.
Besides aquatic sports, Beaulieu offers many other activities, including world class tennis facilities, miniature golf, boccie (boules), spelunking...all within a few minutes of the golf course.
12-19 April, 1996
INTERNATIONAL TOURNAMENT "LES LIONCEAUX"
20-21 April, 1996
WORLD CHAMPIONSHIP JUNIOR I.T.F. - IST ROUND QUALIFIER
22-28 April, 1996
WORLD CHAMPIONSHIP JUNIOR I.T.F TOURNAMENT
1-13 June, 1996
SPRING TOURNAMENT - OPEN 1ST CATEGORY
21-28 September, 1996
VETERANS' TOURNAMENT I.T.F.
Find out more about the World Class Tennis being held in Beaulieu-sur-Mer next year by using the Visitors' Book and E-mail page.

Created, composed, and constructed by Virtual Riviera 1995
---