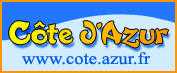 BEAU LIEU POUR LA FETE
-----
A WONDERFUL PLACE FOR CELEBRATION
B eaulieu-sur-mer a su conserver le luxe et la féérie de la Belle Epoque:
le Casino avec Roulette, Baccara, Black Jack et son Night-Club, les nombreux restaurants animés et renom.
Les spectacles éblouissants: Shows, le Grand Bal du 14 Juillet et son feu d'artifice, la Fête des Pêcheurs, les Nuits d'Août auxquelles participent de grandes vedettes internationales, les concerts et expositions proposés toute l'année dans la Rotonde, centre d'animation et de congrés.
B eaulieu has retained much of its turn of the century luxury and magic:
the Casino with roulette, baccara and blackjack, its nightclub, and many famous and lively restaurants.
Dazzling shows:
the Bastille Day Ball(July 14th) and its fireworks, the Fishermen's Festival, August Nights with the participation of great international stars, year round concerts and exhibitions in the 'Rotonde' Convention and Entertainment Centre.
---

Created, composed, and constructed by Virtual Riviera 1995
---